Death of a Bounty Hunter
A Supernatural Steampunk Western from Amazon top selling authors Jay Sherer and Nathan Scheck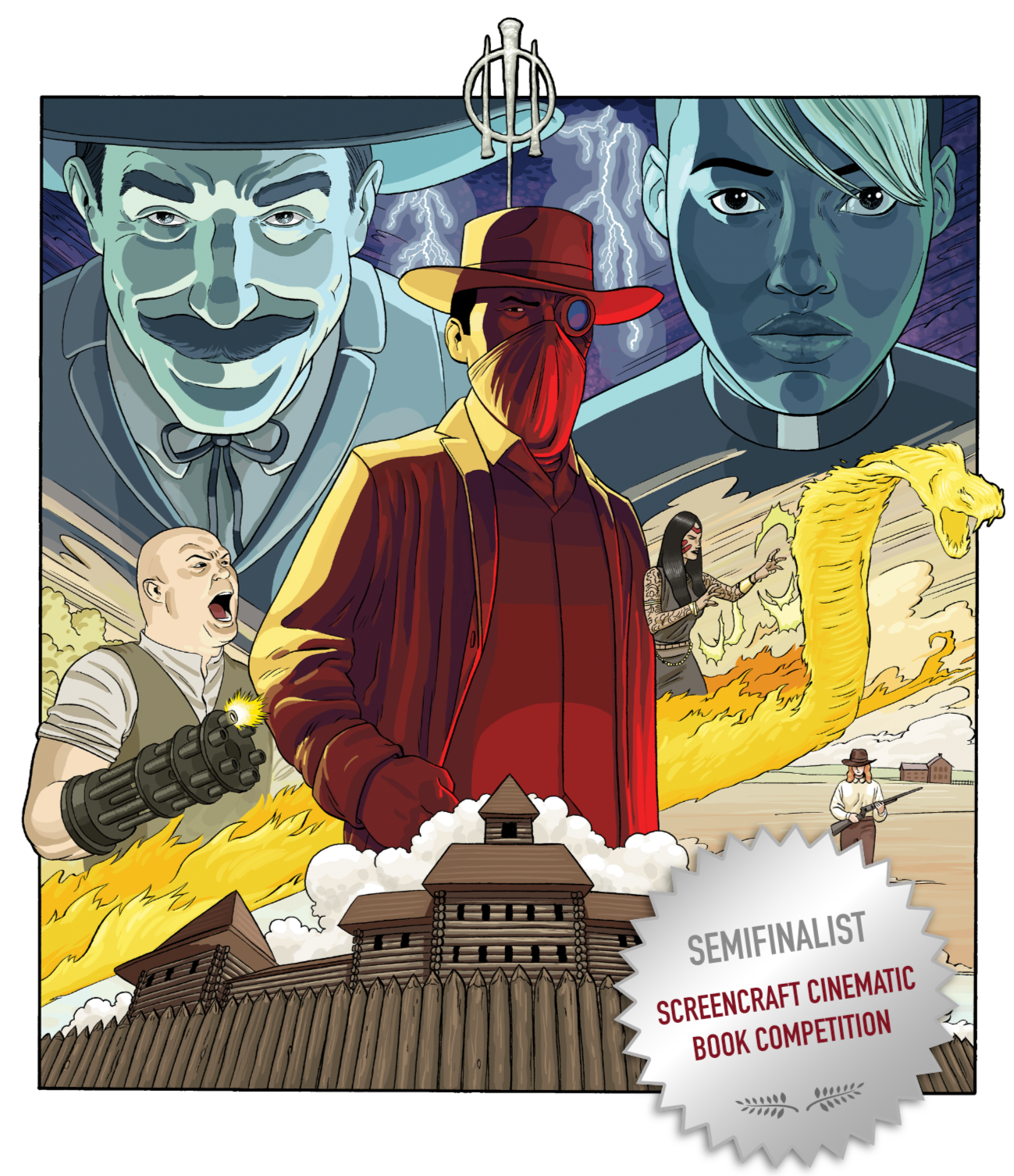 ---
Listen to the Audiobook Trailer
---
★ ★ ★ ★ ★
"An entertaining romp through a quasi steampunk/fantasy/magic western. Engaging storyline, fun characters, and a definite opening for sequels! Well done!"
- Hootarian Library
---
★ ★ ★ ★ ★
"Loved this story! It's an action-packed Western with touches of steampunk and the supernatural. Would make a great miniseries on Netflix. I definitely hope there are more books in this series!"
- jediash1
Book Description
A desperate sheriff careening towards madness joins forces with an occult clan of Duskfinders to hunt down a powerful relic. Flint, a Korean bounty hunter tricked into working alongside them, must make a choice: run or take a stand.

An ogre of a man with a Gatling gun surgically implanted in his arm.
A speedster Eireman named Fancy Dude.
The enigmatic and powerful specter, Mockingbird.
A brash, headstrong Pinkerton agent named Geraldine Abernathy.
Even the Teewan sorceress, The Arrow That Sees, who's covered in tattoos.

They'll all face off at the home of a woman who's desperately trying to hold it together.

Will guilt, shame, and ruthless ambition drive them to redemption and forgiveness... or just all-out war?
---
Pricing & Options
Death of a Bounty Hunter comes in multiple formats. Choose your preferred version!

(We recommend the Gold Package. You'll get access to the weekly audiobook chapters as they're released and you'll get a copy of the ebook and a signed paperback book!)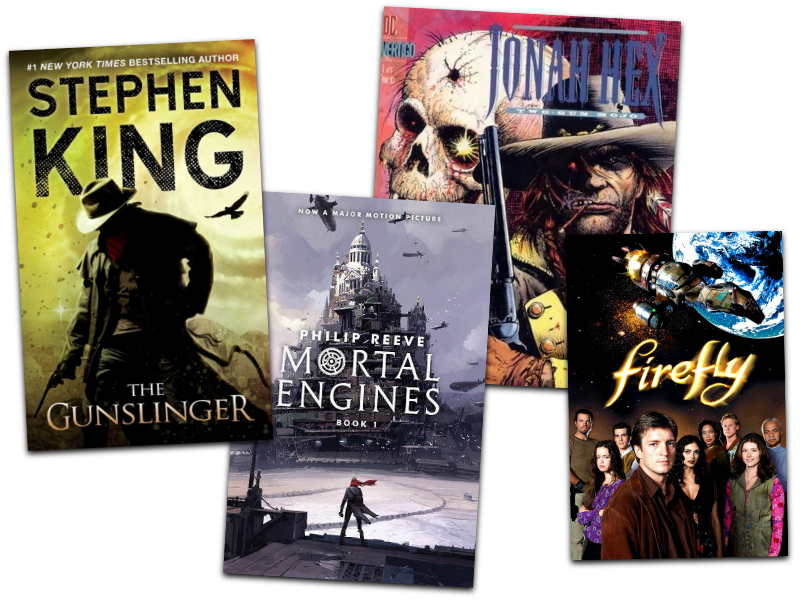 ---
About the Audiobook
The full cast audiobook version of Death of a Bounty Hunter presents a unique experience similar to full cast audiobooks like Neil Gaiman's American Gods. Immersive and engaging, the full cast audiobook gathers 11 voice performers to give life to 14 different characters.
How Do I Access the Chapters?
When you purchase Death of a Bounty Hunter, we give you exclusive access to a podcast feed that will automatically download each chapter (when it's available) to the player of your choice. Don't worry, it's really simple and we'll provide detailed instructions to get you set up! You only pay one time!
---
Release Schedule
The immersive audiobook experience will be delivered to your preferred podcast app every week. Here's the release schedule:
11/09/2020: Chapter 1: The Thief & Chapter 2: The Sheriff of Jericho11/16/2020: Chapter 3: The Mansion11/23/2020: Chapter 4: The Duskfinders11/30/2020: Chapter 5: Jitters and Small Talk12/07/2020: Chapter 6: The Deal12/14/2020: Chapter 7: Jericho12/21/2020: Chapter 8: The Dirt Farmer12/28/2020: Chapter 9: Negotiations01/04/2021: Chapter 10: The Banker01/11/2021: Chapter 11: Aftermath01/18/2021: Chapter 12: The Widow01/25/2021: Chapter 13: The Maelstrom02/01/2021: Chapter 14: The Stagecoach02/08/2021: Chapter 15: Mockingbird02/15/2021: Chapter 16: The Gunfight in the Ravine02/22/2021: Chapter 17: Utmost Patience and Virtue03/01/2021: Chapter 18: The Hand of God03/15/2021: Chapter 19: Luckiest of Days03/22/2021: Chapter 20: It's Vexing03/29/2021: Chapter 21: Deputy Matheson04/05/2021: Chapter 22: Mister Dickhead04/12/2021: Chapter 23: What Pinkertons Do04/19/2021: Chapter 24: Escape Attempt04/26/2021: Chapter 25: The Fancy Eireman05/03/2021: Chapter 26: Absolution's a Bitch05/10/2021: Chapter 27: Showdown05/17/2021: Chapter 28: Dumb as a Dirt Clod05/24/2021: Chapter 29: Spoutin' Nonsense05/31/2021: Chapter 30: Why?06/07/2021: Chapter 31: Chickenshit06/14/2021: Chapter 32: The Traitor06/21/2021: Chapter 33: The Truth06/28/2021: Chapter 34: Inhuman and Sinister07/05/2021: Chapter 35: Five Seconds07/12/2021: Chapter 36: A Downright Virtuous Scoundrel07/19/2021: Chapter 37: The Water07/26/2021: Chapter 38: Kill the Bastard08/02/2021: Chapter 39: The Arrow That Sees08/09/2021: Chapter 40: The Ironspur
Note: Due to strong language and extreme violence, Death of a Bounty Hunter is suited for a more mature audience. What does that mean? We're not experts, but we assume 16-and-above is about right.
---
Subscribe
Want to get the first 12 chapters of Death of a Bounty Hunter for free? Subscribe to our email! Once we receive your submission, we'll send you a link to the free podcast feed.

New chapters are being released every week, but will stop after Chapter 12, at which point you can purchase the remaining chapters. Of course, we do hope you'll consider purchasing it to support our ongoing efforts!
---
Need help or have a question?
Email us at: [email protected]